Chicken Feeders
Having an automatic Chicken Feeder that hangs from the ceiling is a really good idea for the grain or layer pellets you will be feeding your chickens to keep them laying. This feed is the most expensive part of looking after your chickens so you don't want it contaminated with chicken manure. You can buy a relatively cheap hanging feeder or you can buy or make a treadle feeder which although more expensive will save you from food wastage. The feeders below are perfect for small back yard flocks. They are at a very competitive price and they guarantee that your chickens will get fed even when you are not there.
HANGING POULTRY FEEDER
Miller 9112 12lb. Galvanized Hanging Poultry Feeder
This hanging feeder is made of heavy galvanized steel, is strong and will last a long time unlike the plastic versions. It has a 12 lb hanging feeder tube with a 12 feeder pan.It has rolled edges for safety.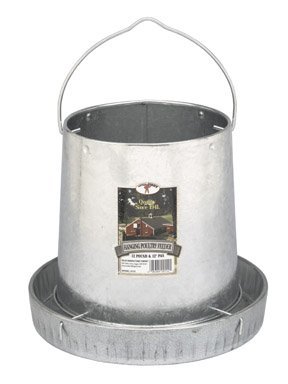 TREADLE CHICKEN FEEDER 
Chicken Feed can be the most expensive part of raising chickens. Having a treadle automatic feeder will save you lots of money in wasted and stolen feed. Wild birds and rodents will come and steal your hens feed, not to mention the wastage that occurs when they stand in their food and contaminate it with their droppings.
This is how it works:
The hens stand on the treadle and the lid opens to allow them to feed. It is easy to train your chickens and once one learns the others quickly follow. All I did was put a small weight on the treadle which kept the lid slightly open. The first hen to notice the food will step up onto the treadle and the lid will open. Once they have learnt what to do you simply remove the weight.
I will not go back to anything else now that I have tried one of these. Although they tend to be a lot more expensive to buy than other feeders they soon pay for themselves with the amount of feed that you save.
Treadle Feeder for US Readers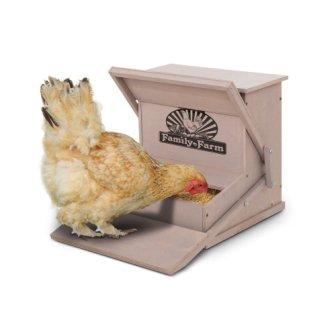 Holds up to 36lbs. of feed, fill the hopper easily with hinged lid. Only takes 12oz weight required to open feeder. Feeder keeps feed clean and fresh, it prevents food from attracting wild birds and rodents which may also carry diseases and parasites. This product has a weather-resistant wood finish to protect the feeder from water and sun damage. Easy to Assemble and low maintenance.
Treadle Feeder for UK readers.