If you are planning on raising your chicks from eggs then you will need an incubator of some kind. Fertile eggs should hatch approximately 21 days after the hen has begun to sit on them. You can leave them with your broody hen to hatch or you can incubate them yourself using an incubator.
1. Heat up Incubator
You will need to get your incubator ready by heating it up and making sure that the temp is at 99.5 degrees Fahrenheit before you put your eggs in. You can buy an incubator that does not require you to turn the eggs or you can buy
one that does require you to turn them. Some people prefer to turn them themselves so that they are more involved with the process and can keep an eye on the eggs.
2. Position the Eggs
An incubating egg should be set in a normal position as it would if you laid it on a flat surface. The large end should be slightly higher than the pointed end.
 

Turning the egg is essential in the early stages .but in the last 3 days of incubation when the chicks are preparing to hatch, do NOT turn the eggs.Keep an accurate count of the days so that you know when you can expect the chicks to hatch. During the early stages if they are not turned they may stick to the shell and become deformed. Turning the egg mimics what a mother hen would do naturally.
If you are going to turn them yourself, you need to mark them with a marker so that you know which side is which when you turn them. You need to turn the eggs at least 3 to 5 times a day .You can't skip a day as this will affect the development of your chickens.
 

The incubator must have adequate moisture in it at all times. A pan of water in the incubator will keep the air nice and moist. Make sure it is continually topped up. As well as having a thermometer to check the temperature you need to be able to measure the humidity. This combined thermometer below is an example.
Temperature measuring range: +32°F to +122°F (0°C to +50°C) – Humidity range:20% to 95% RH
 

An incubator keeps the eggs uniformly warm and moist, simulating the mother hen sitting on her eggs. If you're going to buy one, there are lots of types and sizes and it will depend on the capacity you need, the features (auto-turning etc), and your budget! Below is a very economical incubator suitable for small backyard flocks.
Chicks will survive up to 3 days without feed or water after they have hatched. The yolk of the egg provides enough nourishment for the transitional period from the time the bird hatches to when he is ready to search for food. In general chicks are taken from the incubator after 24 hours. No harm is done if they are not taken out for 48 hours after they hatch.
Making Your Own Incubator
Another alternative is to build your own incubator.  I recently found an ebook that gives you step by step instructions on video on how to build your incubator with cheap materials from the harware store. So if you are handy this could be a cheap alternative to buying a ready made one. The author claims that the hatch rate is superior to some of the bought incubators. If anyone has built their own incubator perhaps they could share their results with us.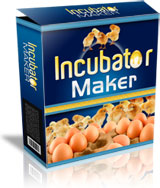 This post contains affiliate links, which means we receive a commission if you make a purchase using this link.